If you are an avid wrestling fan, then you are like me. We have tons of questions about the future of WrestleMania 36. Here are some questions that have been revolving around the internet.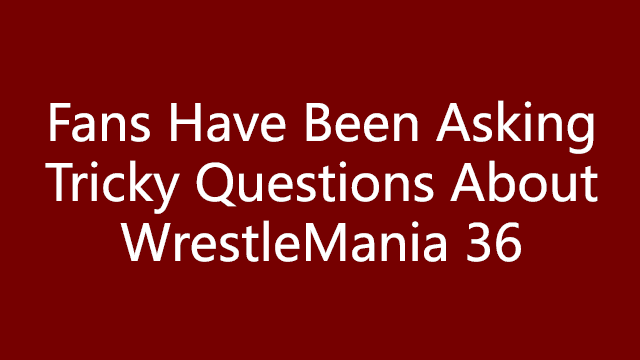 Will WrestleMania 36 ever happen?
As we know that WrestleMania has always been the biggest event in the wrestling world. Tens of thousands people will flock the venue to see Brock Lesnar to defend his WWE Championship against Drew McIntyre. This bout is one of the most expected besides the others. The coronavirus outbreak has threatened the future of WrestleMania. While many big events around the world canceled because of this outbreak, people are raising questions about WrestleMania 36. WWE has yet to make the move to respond to the coronavirus issues. But WWE has no plans to cancel it.
What would happen if the event got cancelled?
There will be thousands of people who want to attend the venue to watch their favorite show with their group and entourage. Cancelling it will require a great measure. All of those folks are traveling to the place. They would need to cancel their travel arrangements, hotels, and other expenses. As we know, not all vendors want to return 100% funds to their customers.
However, when the organizers cancel the WrestleMania 36, the coronavirus will be handled well. Folks won't need to worry about the widespread escalation of Coronavirus.
We cannot neglect the fact that the public health is the biggest concern in Tampa. While cancellation is not an option, the closest result could be the postponement.
What's John Cena doing at this event?
As we know, John Cena has rarely performed. But he is more than just a part-time wrestler. Featured in the next Fast and Furious movie, folks remind of him again and want to see him in action. In the upcoming WrestleMania 36, he will return to the ring to take on Bray Wratt. Cena won over Wyatt back then in WrestleMania 30 in 2014. Who's going to win? Who knows?
How many matches are there on WrestleMania 36?
Short answer is plenty. If you have been following WrestleMania for a while now, you surely know that it is a big event that is full of high profile matches. In the previous WrestleMania event, there were 16 matches on the event. This year we could see even more matches. Year by year, there has always been new things from the organizers. There will be a lot of surprises.